Berrien Springs, MI
Questions arose if NADEI could better serve the students on location at the seminary. The three month move to Chicago was not the healthiest situation for students with families. After much discussion, the decision to move to Berrien Springs, Michigan was reached in December of 1992. Adjustments were made to the Seminary curriculum to allow students to experience classes offered by NADEI throughout their seminary experience rather than just their last quarter. Another adjustment which became necessary with the move had to do with the training program for the laity. Because the program was now integrated with the seminary experience, lay people could no longer be part of those courses. A new program was begun that brought evangelistic training directly to the lay people. Conferences and Unions contracted with NADEI to host classes over a 4-5 year period, offering all the classes on an intensive basis. This program allowed NADEI to extend its training throughout the North American Division.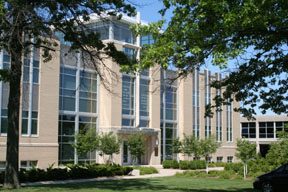 Throughout its association with the Seminary, NADEI has extended its services not only to seminarians, but to much of the North American Division. There have literally been thousands of people baptized into the Seventh-day Adventist church as a direct result of evangelistic meetings held and coordinated by NADEI staff members over the years. In addition, NADEI has been directly responsible for the resurgence of church planting in the North American Division, leading out by establishing the SEEDS Church Planting Conferences as well as the ACTS Church Planting Support System which have led to thousands of churches being planted throughout the Division and beyond.
Many of the cutting-edge evangelistic strategies that are impacting the North American Division today have their origin at NADEI. Natural Church Development (NCD), with its focus on creating healthy churches, has been a NADEI initiative. Hundreds of NAD churches are utilizing the NCD resources and working to bring their churches to health as a result. The equipping church concept that is beginning to revolutionize many NAD churches by moving them to less pastor dependency and more lay ministry is also directly attributable to NADEI. Equipping University, a certificate program designed to help lay members become effective leaders, lay ministers, soul winners, church planters, and passionate disciples of Christ, offers practical training for lay members as well as MissionWorks, where church leadership teams learn how to develop a specific plan to reach every person in their territory for God.
Pastors and spouses enter the field better prepared to serve, and lay members continue to be trained and equipped for ministry and service as a result of the ongoing mission of the NAD Evangelism Institute.